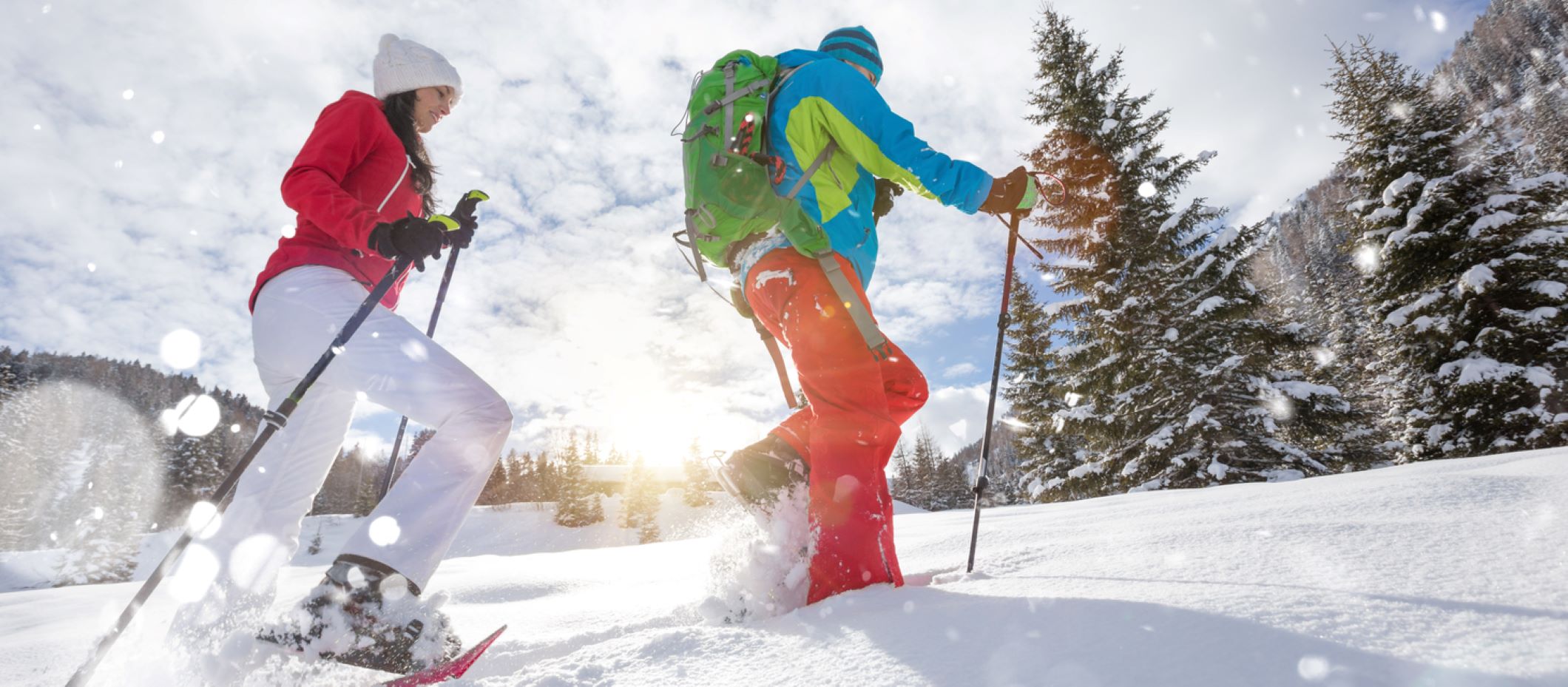 5 good reasons to try snowshoeing this winter in Tignes
The ski lifts may not be open, but we still have many ideas for you to keep exploring the mountains! What if this winter was the right time to try snowshoeing?

Get rid of the fuddy-duddy image you might have of this activity. You can easily tailor your approach depending on your needs: from a cultural and leisurely walk with all the family, to a sporty hike for the more adventurous.
1) good for your physical and mental health
Snowshoeing is a fulfilling activity! As an endurance pursuit, the steep paths will challenge your heart and get your blood pumping! A great way to improve your cardiovascular and muscular capacity!

Walking in deep snow will challenge your balance and coordination, requiring the use of poles. Even if you lose control, no fear, you will simply turn into a big snowball.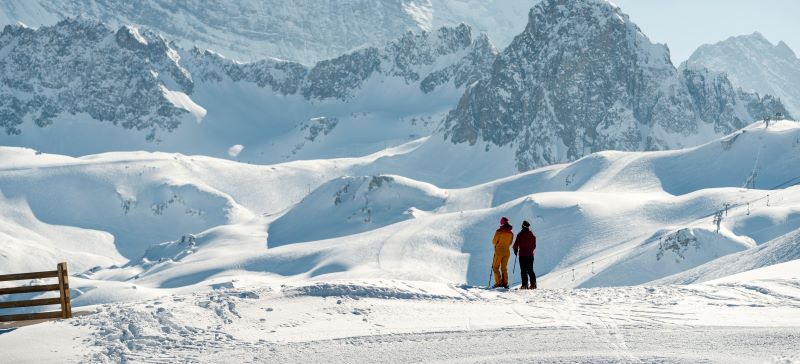 2) you only need to know how to walk
All you need is love, to know how to walk! No more, no less. Of course, it takes a short time to adjust how you walk with these big shoes, but do not be afraid it will come very quickly and you will hit the road before you know it.
Here is the main advantage of snowshoeing! You can enjoy a day in the mountains with all your family or friends, no matters the differences in fitness. To motivate all the whole tribe, challenge yourselves with a race to the top or have fun with a snowball fight or a game of hide and seek between the firs. We can assure you that you will lose track of time and go home with many wonderful memories.
You might think that your kids or teenagers won't be very keen on snowshoeing... Douglas Favre, director of Evolution 2 Tignes, reassures us that; "It's true that sometimes it can be difficult to convince kids or teenagers to go because they see snowshoeing as an "elderly activity". However, once they have started they will quickly enjoy it. They can run, walk-in deep snow, make snowballs... Most of the time they come back with a big smile!"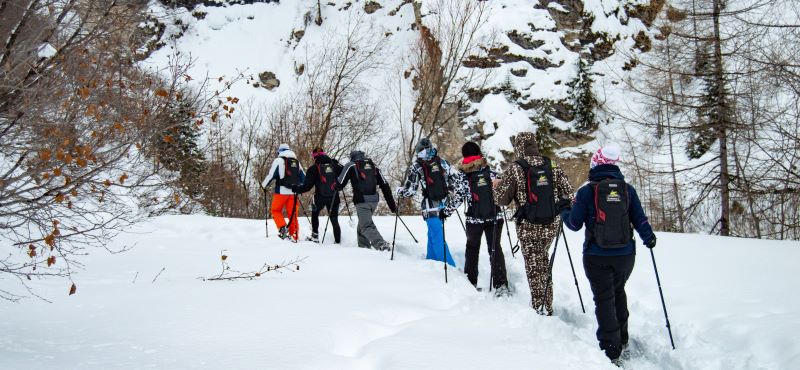 3) Different methods depending on your goals
Victim of its outdated image, snowshoeing may not be the first activity that comes to mind when thinking about winter activities. Douglas, explains to us why this prejudice is wrong. "As with hiking during summer, it's easy to tailor snowshoeing. We have different programs appropriate to different people and objectives. From the full day hike with elevation gain to reach a specific point, like the dam of La Grande Sassière, to a softer hike of a half-day guided tour of Tignes, discovering its history, heritage and natural environment. "

You do not have any excuses now, just take a look at the different offers and find the one that suits you the most!
4) discover the mountain in a different way
Equipped with your snowshoes, it is the perfect opportunity to get off the beaten track. Look for secret spots and beautiful secluded corners of the resort, from a small forest path to a high viewpoint, there is always a way to enjoy hiking in the snow.

Stephane Rutard, high mountain guide, advises us to call for a professional for a better experience. "Guides know the mountain, its history, its flora and fauna. They can teach you a lot and offer you a richer experience."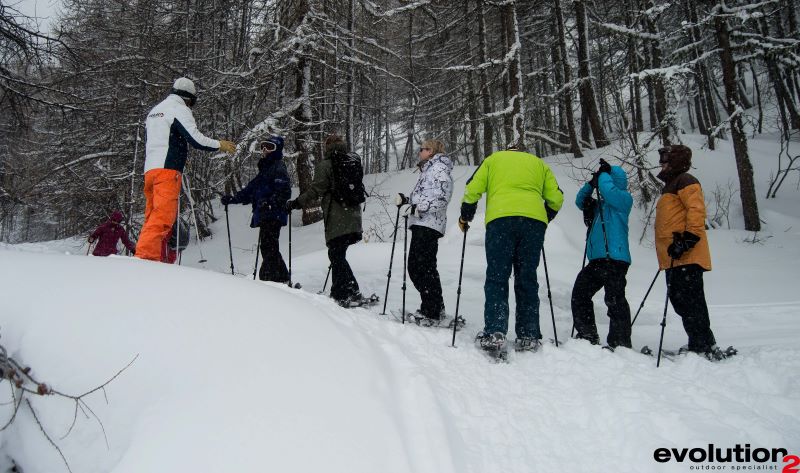 5) safe paths to walk peacefully
This winter the resort has adjusted what is on offer, for you to fully enjoy your stay in our mountains! As with dedicated ski touring slopes, earmarked paths have been created for you to seize the day and hike independently and peacefully in a safe environment.
However, if you want to go off-road and create your own tracks in powder snow, then call on a professional guide who will open your eyes to beautiful spots in complete safety.
Be accompanied by a guide will bring you all the serenity you need to evolve in the mountains; Stephane Rutard gives us his reasons to have a guide with you : "We are lucky, here in Tignes, to have a fabulous field to discover the mountain by walking. When moving off the resort, we are quickly in an exceptional environment with amazing landscape. We have to keep in mind that we are in the high mountain, so it can be dangerous if we are not used to it. All the guides know perfectly the terrain and the risk so they can adapt the itinerary depending on the weather condition and the quality of the snow."

One last reason, just to convince you😉
6) an affordable winter activity
Snowshoeing is good for your health but it is also good for your wallet! Indeed, it is one of the most affordable winter activities that will fit tighter budgets or big groups/families who want to spend time in the mountains altogether.
Rental of snowshoes is cheaper than skis. Roughly 10 to 15 euros for the whole day, and you don't need to buy ski pass!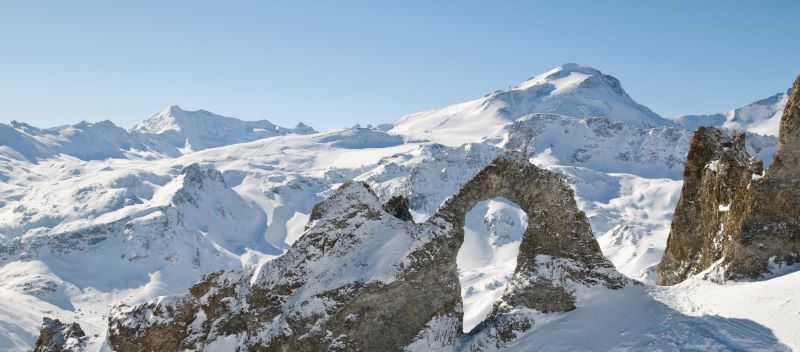 ---
You should be convinced now to try it for your stay at Tignes this winter! Don't hesitate to get advice from our professional who will help you to get ready for an unforgettable experience in the mountain.