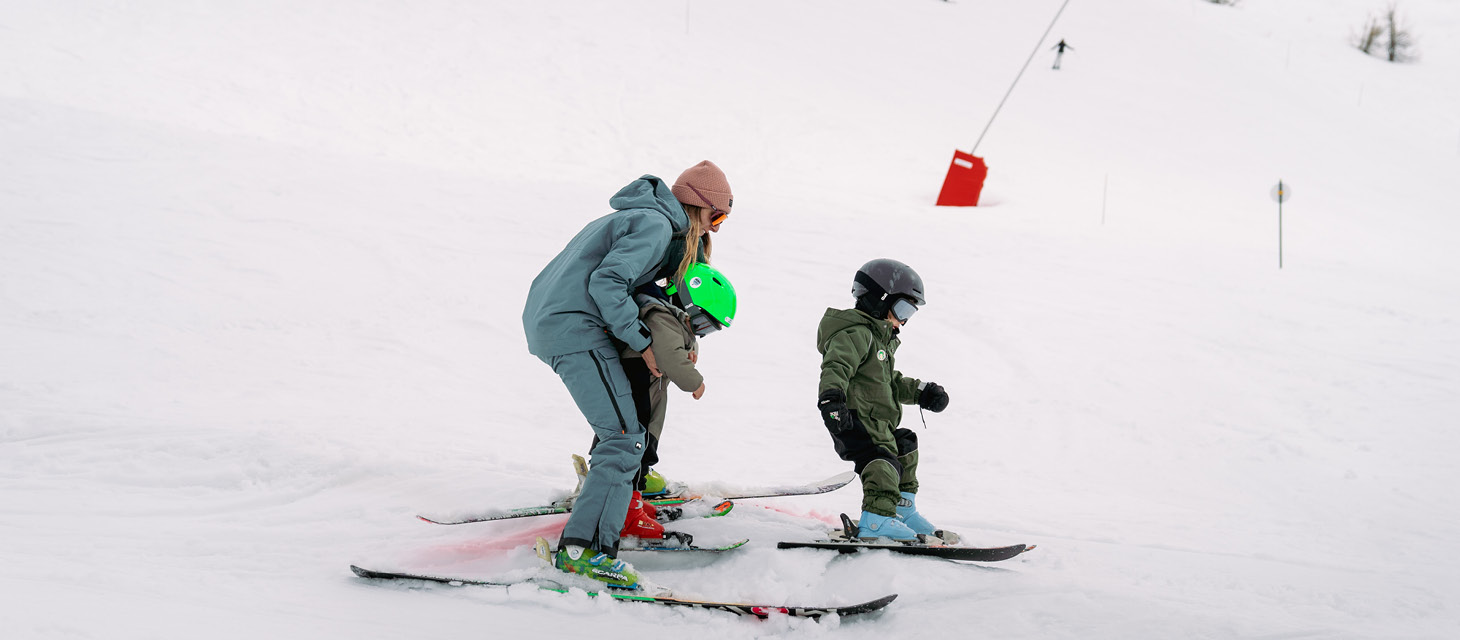 Why choosing Tignes to start skiing
This is it, it's your winter! This year you will no longer remain at the bottom of the ski slopes, you are going to fully experience your winter holidays in Tignes and discover the joys of riding.

Starting a new activity does come without a few nerves, for sure, but that is totally fine. In Tignes everybody is welcome. If you have chosen our resort as your starting point, we can assure you that you've made the right choice. With our vast ski domain, our beginner areas and all our thoughtful professionals, you will find all you need to learn how to ski in the best conditions and regardless of your age.

This way to make your first turns!
a unique environment to learn
From the glacier of la grande motte to les boisses
In the heart of the Tarentaise massif, surrounded by sumptuous peaks, the Tignes-Val d'Isère ski area offers a very diverse playground that will accompany you throughout your progress. 300km of slopes await you here, which means that you will easily find a trail for your skis.
The Tignes ski area begins in Les Boisses at an altitude of 1,550m and rises to the Grande Motte glacier at an altitude of almost 3,500m! An exceptional playground offering slopes adapted to all levels.
breath taking sceneries
Whether from the ski lifts or whilst descending the slopes, you will be amazed!
Be it the panoramic view from the glacier, the vista of the Chevril Lake, to the Aiguille Percée (eye of the needle), there are so many viewpoints not to miss and which will make your initial apprehensions vanish.
If you are more into bucolic paths between trees, Les Boisses and Les Brévières area is made for you. You will find easy slopes in the forest, so you can enjoy your first ride in a quiet and calm area.
A ski area suited to rookies
the 1,2,3 ski start area
The 1,2,3 ski start areas have been specially imagined and designed for beginners. Areas 1 and 2 are free, ideal for getting started and making your first turns without any additional costs! Are you getting more and more comfortable on your planks? Then move on to the "3 area" to hone your confidence before venturing out into the rest of the ski domain.
Xavier Tissot, director of the ESF Lac gives his advice on how to start smoothly: "It is very important to go gradually. Start on the flat to familiarize yourself with the glide and the equipment then gradually increase the incline. For this, "areas 1,2,3 ski start" are perfect! Before you can be autonomous and have fun with the rest of your group of friends or family, plan a short week of lessons if you are skiing for the first time. "
Area 1 allows you to progress in complete safety in a zone exclusively reserved for novices. At the beginning, it is important to choose slopes with a gentle gradient and that have a flat run out to help you come to a smooth stop. In all our villages, be it Val Claret, Le Lac, 1800 or even Les Brévières, you will find zones adapted to your ability.
Find out more on our dedicated page by clicking here.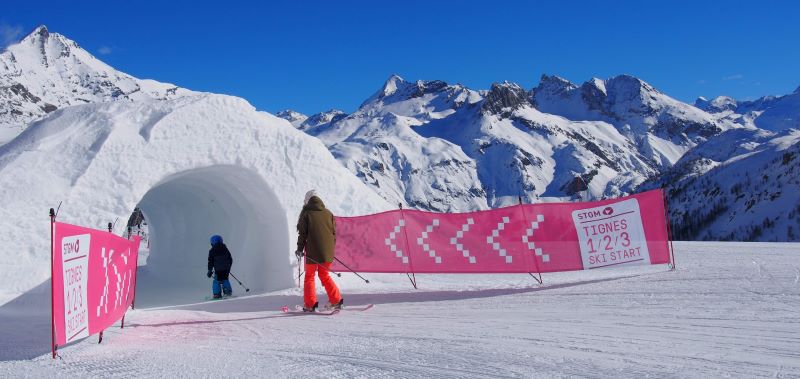 ski lifts suited to beginners
In our beginner areas, you will find ski lifts perfectly suited to your level. In particular, the "magic carpet" travellator takes you up the slope without any effort. Simply slide on and let yourself be taken gently to the top before descending the slope again.
Regarding the more traditional ski lifts or chairlifts, you will find ski lift operator at each departure and arrival point ready to help you grab your pole or seat. Simply let yourself be guided to the top of the slope before you start your turns and build your confidence.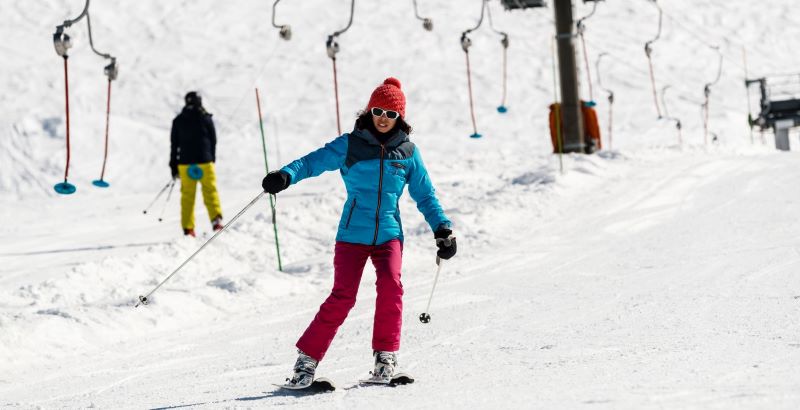 thoughtful and accustomed professionals
Starting to ski cannot be improvised. By going it alone you are likely to have a bad experience that could make you give up before even getting started. To avoid any negative situations, and to become a real sliding addict, there is nothing better than calling on a professional!
Xavier Tissot, shares his perspective as an instructor, to convince you that it is preferable to start with a professional: "By trying it alone or by following a friend, most of the time you might engage yourself in pistes that are not at all suited to your level. You might scare yourself and think that skiing is not for you, which is not true! "
Undecided about the best option to choose between individual or group lessons? Here are some advantages of each according to Xavier: "To progress as you wish, you have the choice between group lessons which have the advantage of being more economical and allow you to progress in a friendly atmosphere. Alternatively, individual lessons are tailored perfectly to you, your physical and mental aptitude. "
In Tignes, you will find professionals who will accompany you with goodwill throughout your skiing journey!

a caring community
In Tignes, we attach great importance to the principle that everyone is welcome, regardless of their ability. Here we try uninhibitedly. If we fall, we laugh, and get up to start again.
It won't take long for you to fall in love with our resort and become a Tignesaddict! Whether you come with family, friends, as a couple or even as a lone wolf, you will always find something to occupy yourself and new spaces to explore. A beautiful day of skiing or snowboarding, a little splash in the Lagon to relax before sunbathing on the terrace, a gym session or a walk around the lake.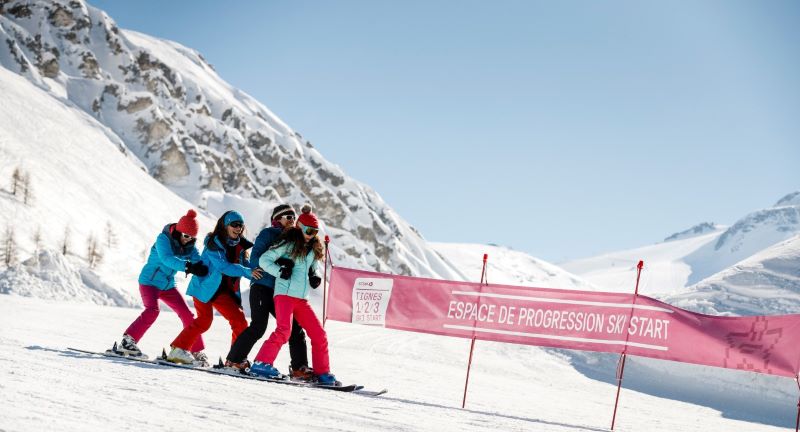 ---
No time to waste ! Come visit us, all the resort team is ready to welcome you and help you in your ski progression.