TIGNES HAS FREESTYLE IN ITS SKIN!
Snowparks, easy park, boardercross... The linked domain of Tignes - Val d'Isère is punctuated with free access freestyle areas, easy to reach in no time via the ski lifts. With its lines of green (XS) and blue (S) modules, the Tignes easy park is perfect for beginners and experienced freestylers looking to progress. Already at ease with the discipline? The Snowpark DC is for you! Its three lines of level L and M will allow you to express your technical skills alongside the pro riders of our partner DC, regularly shooting in the resort throughout the winter.
Also to be found in the DC Park: a chill zone with free wifi access
Free access via the Grattalu chairlift and the Col du Palet ski lift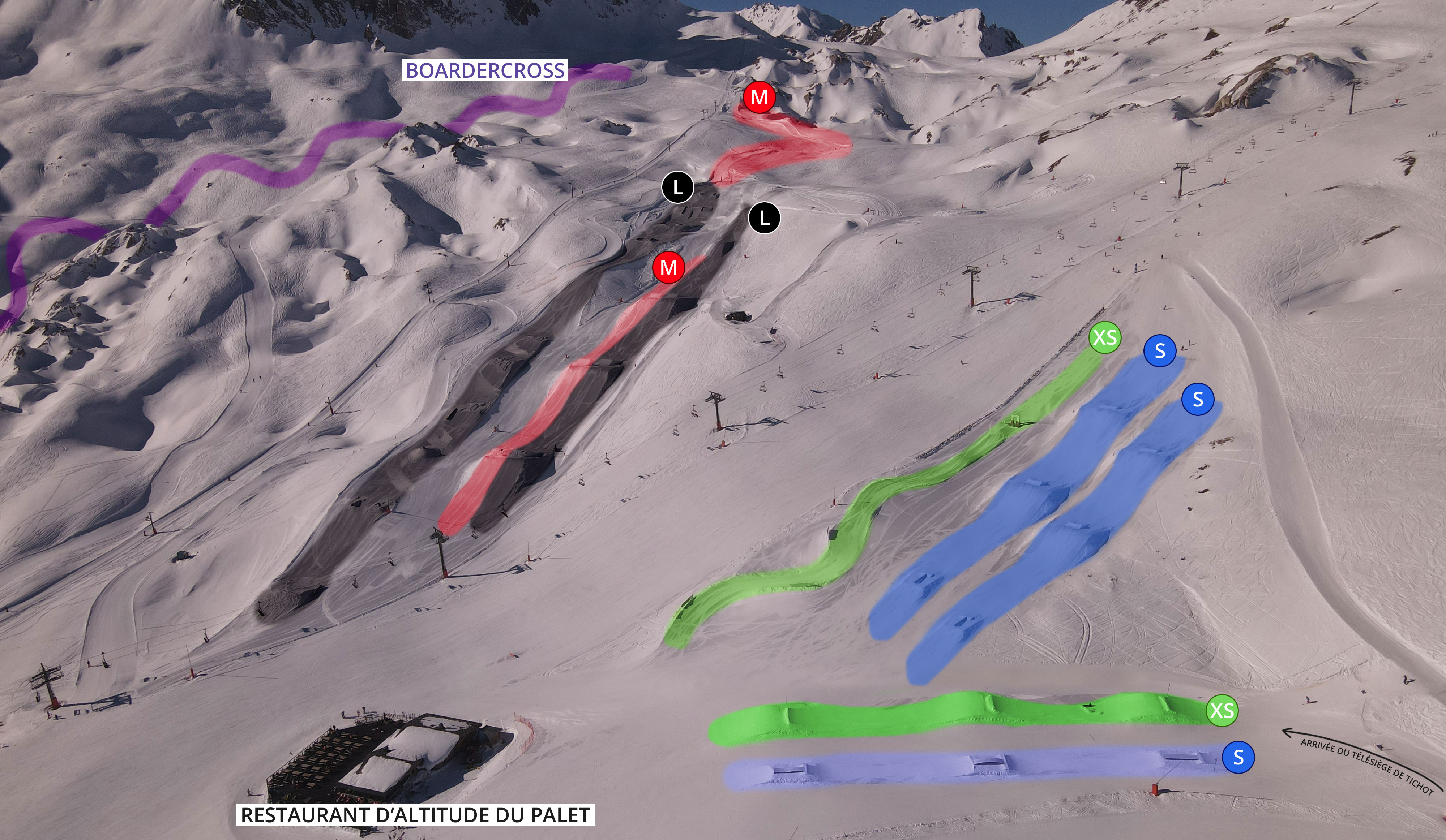 - Click to enlarge -
THANK YOU FOR THE WORK!
Passion and high standards: these are two essential qualities to be part of the Tignes Shapers Crew, the team of groomers and shapers in charge of all the freestyle areas in Tignes. It's quite simple, when they're not working, they rip up the spot... which they will adjust if necessary after their session until they are perfectly satisfied! After all, one is never so well served as by oneself. The objective is ambitious: to remain in the TOP 10 of the best snowparks in Savoie, and even in the Alps.
If some of the snowpark's modules are rather fixed (this is the case of the tables of the black line, which rest on impressive earthen preforms), other modules such as the small tables, the rails and other jib zones evolve throughout the season, according to the desires of the moment, the events or competitions and the feedback of the professional and amateur freestylers.
As true freestyle enthusiasts, the Tignes shapers have a taste for transmission. That's why as much care is given to the easy park as to the snowpark. It is not rare to see some shapers coming back with their children on the lines for beginners that they themselves have imagined: tested and approved by the dads as much as by their mini-me!
UNDER THE SNOWFLAKES... PREFORMS!
Did you know that? Under the tables of the black line (L) are hidden earthen preforms, allowing to limit the volume of snow necessary to their shape. The result? A snowpark that opens earlier in the season!